Violins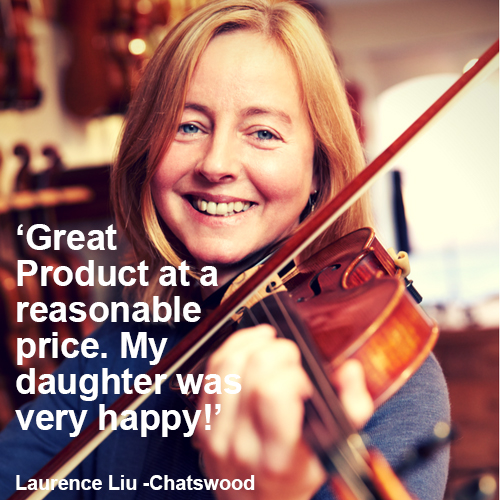 Our beginner violin range is designed in Australia and made in Asia to offer the best value starter instrument available. With features designed to make playing easier and priced from under $100 the Axiom range is the best choice for the beginner
Axiom Beginner Violins are the best value violins in Australia! If you're looking for a violin for yourself or your child to start on look no further than the Axiom Beginner Series Violins.
When we set out to design our beginner violins we felt the most important thing was to produce a violin with the best quality timbers and components but at a price which was easy for the first time player to afford. Many cheap violins are flooding the Australian market but none of them are designed by a musical instrument specialist. By comparison, Axiom Beginner Series violins use the best quality tone woods possible at the price. We specify timbers with a straight grain and rich tonal qualities. Then we add components such as ebony pegs and a carbon fibre tailpiece. Our pegs are made of ebony which allows them to turn smoothly in the scroll and allow the student to tune the violin easily and accurately. The tailpiece,where the strings attach at the bottom of the violin, is often cheap plastic in other violins but ours is carbon-fibre with four quality fine tuners built in.
When you're looking for a beginner violin you want to know that the brand you are buying has a proven track record. The Axiom Prelude Series has been sold to over 6,000 satisfied customers in the past 8 years and we have received many positive comments from them. We stand behind all our products with a 2 year warranty.
Every violin we sell is professionally checked, set up and tuned before despatch
NOT SURE WHAT SIZE YOU NEED? NEED HELP?
SEE OUR
VIOLIN BUYERS GUIDE
---